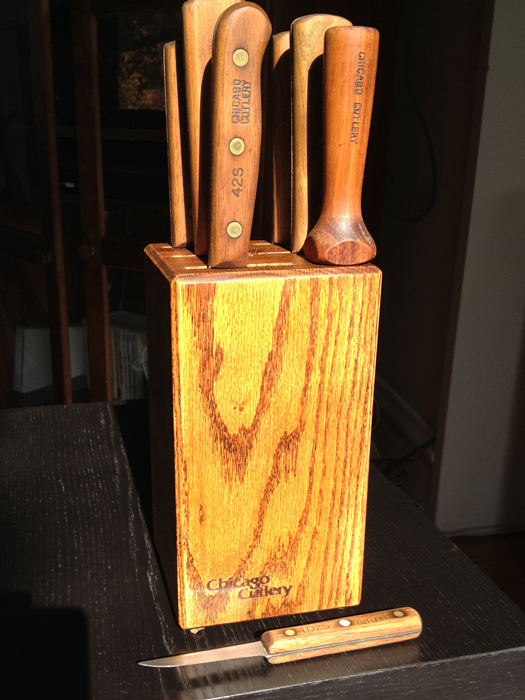 A set of handles standing upright within a grubby box of kitchen implements caught my eye while poking about a garage sale one day.

Some of the knives were scattered at the bottom of the box; and everything, including the block, was covered in a generous layer of old grease.  But it was indeed a set of Chicago Cutlery.  Many of the blades were poorly cared for, and some showed signs of active misuse.
But hell, they were One American Dollar™ for the whole set!  I scampered off with them and headed over to the local hardware store.  I don't know a hell of a lot about knives, but I've always wanted to learn more; this seemed like a great opportunity.
The guy at the hardware store was impressed.  He pointed out that the rivets on the knives were brass.  "They stopped making these outta brass in like 1983," he confided, "so these are great knives, from back when they just sold to butchers."
I'm not sure he's right about the latter factoid, but I like the sound of the brass rivets part.  And the timeline matches up well with the style of the logo:
That typeface? The woodburn? It doesn't take a lot of graphic design research to smell 1979 on that one.
I left the hardware store with the assurance that I had indeed found a badass set of knives, and a bagful of new tools:
some steel wool (#00 grade)
lemon oil, to restore the handles
a whetstone
honing solution, to put on the whetstone
mineral oil, to restore and polish the blades.
Add to that some fine sandpaper of my own that I already had (220 grit, I think), and I was off to Elbow Grease Alley to sharpen up my new set of knives.
3 hours later: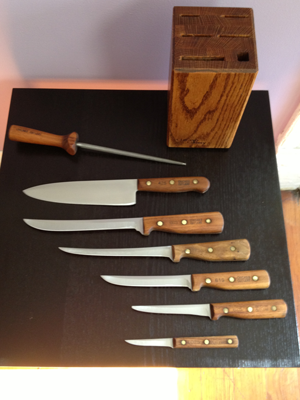 The wood turned out really nicely and feels solid in your hand.  And the knives are, for the most part, absolutely deadly sharp.  They cut tomatoes in razor thin slices.
I'd love to learn more about these knives and how to use them.
What specific cut is each knife designed for?  What do the designations (61S and so forth) mean?
As y'all can see from the photo above, Knife 62S (the second from the bottom in the top photo) is blunted.  The tip was bent when I bought it, and it snapped off while I was trying to straighten it.  It is by far the dullest of the knives, virtually unusable.  I'm just starting to learn how to sharpen knives properly, and I haven't been able to get this one sharp at all.  It's beyond my capabilities at this point.  Any suggestions?
I've done absolutely zero research on Chicago Cutlery as a brand, but it would be fun to do a little logo research; figure out what typeface that is, where it came from, who designed it, etc.
The whole project took about 4 hours (trip to the hardware store included), and, hopefully, will lead to some more interesting learning about cooking, brand design, etc.  I'm looking forward to seeing what opens up.