Last year I had the great pleasure to work with Mucca Pazza and Daniele Wilmouth, the director of the band's remarkable short film, Fanfare For Marching Band.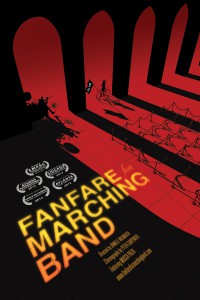 Mucca Pazza is one of my favorite acts around; I've been aching to do a band poster for them.  So, when the band needed this poster done, they thought of me, and we got started.
Here's what we rolled out for the premiere.  Copies of this went to the film's Kickstarter supporters, displayed at every film festival, and on the DVD box.  Part of the illustration ended up on a t-shirt.
I'm really proud that I got the opportunity to work on this.  I'm a huge fan of quality band poster design; It's a great design challenge, one I'm just beginning to get into.  There are tons of designers and artists far, far better at it than I.  Sure, there's the Milton Glasers of the world, but there are an incredible amount of great contemporary artists out there as well.  I really dig this guy's: Mark Sgarbossa.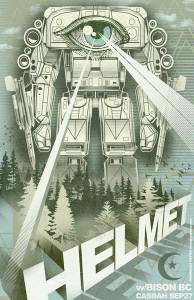 The guy's range is absolutely amazing; he can do great detail work like the Helmet poster above, or get minimal.  That kind of versatility is something I really appreciate.
I'm keeping watch for the next opportunity to work on something like this.  Thanks to the Muccas for the opportunity.